Watergate's Infamous 18 1/2 Minute Gap explained
WHY 18 1/2 MINUTES OF TAPE WERE ERASED
Watergate, the greatest political scandal of the 20th century, was shrouded in mystery, until today. Why was a discussion between President Richard Nixon and his chief of staff Bob Haldeman erased? Who would have been incriminated, was national security was at risk?
Despite conspiracy theories and forensic research, no clues could be authenticated. There was never a clear understanding of the "18½-minute gap." This Renegade News political report explains.
During a meeting with President Richard Nixon, Ray Charles accidentally pressed "record" on a tape recorder, erasing the audio. About 18 minutes passed before Nixon notices.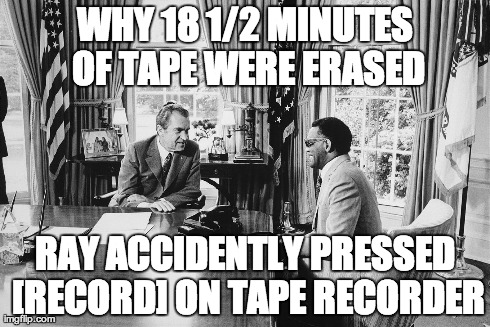 Ray accidentally pressed [RECORD] on the tape recorder.
THIS IS A PARODY OF NEWS
Watergate's Infamous 18 1/2 Minute Gap explained
Reviewed by
SteveMiami
on
2:30 AM
Rating: